There are times in life when we all need a change of pace. For Our Town America franchise owner, Wendy Baird, that change of pace occurred in 2016. Baird is now a successful owner and operator of Our Town America in Asheville. "I have never regretted joining the Our Town America family – not even for one second," Baird says. "It was a lifestyle change that I needed. It was the best move I've ever made."
Asheville has been Baird's home for nearly two decades. She knows the area well. Baird was born and raised in a town about a 45-mile ride outside of Asheville. She landed a job at a local insurance company while still in high school. "I started there when I was in 11th grade," she says. "I started out filing paperwork and answering the phone." Upon high school graduation, Baird earned a Property and Casualty license, taking her part-time job into a full-time career in insurance.
Baird worked in the insurance industry for a total of 29 years. Fifteen of those years were spent working as a commercial lines agent. Job functions included writing general liability, property coverage and workers' compensation for restaurants, apartment complexes and other commercial entities. While it paid the bills, the career had run its course.
"I was in it for a long time," says Baird. "I got tired of sitting behind a desk. I reached the point where when I asked my boss for a raise, I was granted one, but not really enough to make much of a difference. I was scared to make the change, but that pushed me over the edge."
Baird was about to take a journey she had, up to this point, never experienced. With no previous experience with entrepreneurship, she made the bold move to retire from insurance and join the ranks of America's small-business owners.
"I discovered Our Town America through a friend of the family who said I would be good at it," Baird says. "He kept talking to me about the benefits of being a franchise owner until I knew I was ready to transition away from the insurance business. After several conversations about Our Town America, I was excited to tell him I was ready to start my new career".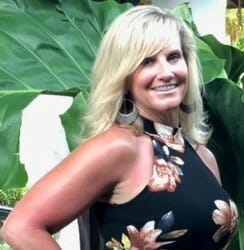 Any angst and apprehension about joining Our Town America were soothed when she met with Bassam Safi, the owner of Our Town America in Wilmington, North Carolina. Safi showed her the ropes, allowing Baird to join him as he canvassed and fulfilled appointments. "We spoke in depth about how it had changed his life and how nice it was to be able to work hard but still be able to set your own schedule for time off," says Baird. "After a few appointments, I was sold. I knew I wanted to become part of the OTA family."
What began as a curiosity has turned into two years of a dedicated commitment by Baird to provide a service that connects Asheville's new residents to the area's favorite businesses. When people move, they leave everything they've established in their old town behind," she says. "They need a new hair salon, pizza place, steakhouse, etc. My job is to help both new movers, and the small-business owners providing the services, establish new relationships."
The transition from selling insurance to B2B was a minor adjustment, but Baird's friendly disposition and dedication to working hard never wavered. "Working in the insurance business, people needed me, they came into our business for services," she says. "This is different. I go out and search for these businesses. It's my job to explain how I can help their business gain new loyal customers."
Baird says the experience she had selling insurance gave her the necessary confidence when she had to become a full-time saleswoman outside the office. She's thankful for the 29 years of experience she accumulated but isn't second-guessing her decision to go the entrepreneurial route.
"I love the freedom that comes with owning an Our Town America franchise," says Baird. "I love that there isn't a limit to the money I can make. I love that I can take time off to visit my grandbabies, keep them for a week, travel anytime and anywhere without asking for time off because I'm THE boss!"
She understands being a business owner isn't for everyone, but she encourages those giving it serious consideration to go for it! "Take the leap like I did. If I hadn't, I'd probably still be sitting behind a desk somewhere, looking out the window wishing I had taken the opportunity when it was presented to me."
Baird believes Our Town America is the perfect lily pad for those contemplating making the leap. "The corporate office staff is very supportive and helpful in every way to help you reach your goals," she says. "It's like we are all one big happy extended family. We have annual conventions and we go on vacations together. They mix a lot of fun in with a lot of information to help you achieve more sales and reach your goals."
Are you looking for a change of pace like the one Wendy has achieved? Does the Our Town America franchise opportunity sound like it could be for you? If so, learn more at https://www.ourtownamerica.com/franchise-us/.