David Cox is thriving in the Valley of the Sun as the proud owner of a pair of Our Town America franchise locations. He opened his first location with Our Town America, the nation's fastest growing new mover marketing franchise, in the greater Phoenix metropolitan area. Hard work, a dedicated staff and perseverance allowed Cox to return to his Southern California roots, where he's cooking up something special in San Diego with his second franchise location.
David Cox's Our Town America San Diego franchise is a pseudo-homecoming. Southern California is where Cox was born and raised.  It's also where he got his first taste of entrepreneurship. He left the area after he sold his initial business and headed to Arizona where he enrolled in graduate school. After a successful stint in corporate consulting work, the entrepreneurial bug came roaring back to life.
"I was starting to feel the urge of being a business owner again," says Cox. "There's always risk involved, of course, because you never know how it's going to turn out. However, I wanted to be in control of my own operation."
Ever the student, Cox proceeded to do his homework, researching what business opportunity best fit his requirements of sales and marketing. A four-month project of due diligence reached its tipping point when a friend's brother introduced him to Our Town America. In January 2014, David purchased the rights to become the Our Town America franchise owner in Metro Phoenix and he hasn't looked back.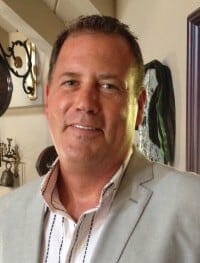 "It's a very independent operation, you have the ability to work from home and work on your own hours," says Cox. "Success is dependent on your work ethic and your organization skills.   It's also imperative to manage mandatory networking with community members, chambers of commerce and fellow business owners. The Our Town America business model presents each franchise owner with fantastic income potential if they're willing to get out in their community and create relationships."
Our Town America helps businesses reach out to residents just moving in to their new community, creating long term, loyal relationships before they connect with competitors. And according to Cox, he couldn't have chosen a better area than Phoenix to build his first Our Town America business. The Phoenix metro is one of America's fastest growing areas. In fact, the latest data from the Census Bureau says the area adds 88 people per day on average.
"There's a lot of franchisees and small businesses who moved from other parts of the country here for a new life in the desert," says Cox. "There are quite a few people in the same boat as me – working hard and trying to make a living. That makes it easier for me to meet with them, strike up a conversation and hopefully establish a new business relationship."
What was once a calculated risk has paid off big time for Cox.  "I went in thinking six to seven percent growth a year would be good, and I've been close to that if not spot on each year."
He credits a dedicated staff, who have followed his "cookbook." "My cookbook lays out exactly what it takes to be successful as a salesperson," says Cox. "The number of calls you make, how you approach folks, your ability to knock on doors, networking, plus your attention to details, your propensity for datamining. Following the cookbook produces sweet results."
Cox says finding that right personnel takes time. Thankfully for him it didn't take long to make that discovery. A successful two years in Phoenix had David eyeing expansion, and he knew San Diego was the perfect spot to deliver Our Town America. "It is a wide-open market, a huge area with tons of different people and businesses," says Cox. Plus, as he points out, it's San Diego. "It's a beautiful city. If I need to spend some time to relax and gather my thoughts, might as well do it in sunny San Diego."
Our Town America is giving him the opportunity to appreciate a good work-life balance. He says it's a great franchise for those looking for a healthy challenge. "Be curious, work on your communications and sales skills.   Also, realize it's all about being consistent out there. Doing a few things right every day will go a long way."
What's in store for David Cox? 20 years from now, he says retirement. As for right now, the father of a seven-year-old daughter is focused on personal growth as well as making sure his two Our Town America franchises continue to flourish.
Do you want to realize your business ownership dreams like David Cox?   Does the Our Town America franchise opportunity sound like it could be for you?   If so, learn more at https://www.ourtownamerica.com/franchise-us/.