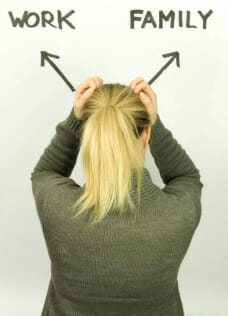 Franchise business executives are prone to facing some knee-buckling curveballs in their personal and professional lives. Each day brings its own unique set of challenges, form disgruntled franchisees to teenage daughter drama and the most effective executive shave an innate ability to roll with the punches. When facing any issue, whether business or personal, they absorb all details, weight their options, and make quick, calculated decisions. Almost all of them are entrepreneurs used to an intertwining of business and personal lives, and thus, their resourceful, problem-solving character follows them wherever they go.
But what is business is personal? What is the franchise system is a family-based business in which fathers and sons, sisters and cousins work under the same roof? What is the son or daughter is thrown into the CEO role unexpectedly after their father's death?
The franchising world is quirky and tumultuous in it own right and working in a family business like Our Town America makes it all the more difficult, tricky and unpredictable. This is because it's difficult to consistently maintain a productive and professional and personal relationship with family members. The blurred professional and personal lines can put massive strains on family relationships, particularly when the company is facing tough business challenges and it's difficult to stay focused and handle those issues off the clock.
Despite those pervasive strains, nothing is more rewarding than working in a family owned and operated franchise system. Communication is open, direct and honest. Relationships are founded on love, trust and respect. New and creative ideas are welcomed as micro-management and gossip take a back seat to collaboration and teamwork.
The big question, though, is what does it take for a franchise executive to limit potential pitfalls and capitalized on the strong upside of working in the family business?
Many of the following lessons apply to more than just family businesses; they can be applied to any franchise system. It's the little things that make franchise executives stand out. It's remembering birthdays and anniversaries. It's bringing in coffee and doughnuts for the whole team. It's staying late to help a struggling co-worker finish a project.
Here are a few tips.
Watch and Learn
One of the biggest advantages that anyone working for the family business has is that the boss "lets them in". There is an established loyalty and trust shared between employer and employee rarely found in the workplace. Due to that bond, the boss is naturally more willing to take that employee under his wing and share advice and insights that will help him do his job more effectively.
How can employees take advantage of that and help the family business run more effectively? They can treat the employment opportunity as an apprenticeship and become the boss' understudy. They can become a vacuum of information and shadow the boss daily. They can watch and learn when the boss:
Discusses the company's value proposition with potential franchise owners.
Assuages franchisees when they face tough and unexpected challenges.
Represents the brand at conferences, conventions and other events.
Manages the tasks, responsibilities and emotion of corporate staff.
This is obviously not a comprehensive list. The moral of the story is for family members to make the most out of being "let in" by learning as much as they can about what makes the boss and the company successful.
Work Harder and Smarter Than the Rest
There is, however, a downside to the boss letting family members "in" - Co-workers often suspect preferential treatment. Whether or not the suspicion is justified (some bosses have higher expectations of family members, others give free passes), it is imperative that family members within the company establish themselves as viable team members by earning the respect of co-workers.
Think about the people who are the most highly respected at franchise companies. They are the employees who complain the least, work the hardest, and, ultimately, get the job done. It is important for everyone at the organization to have aspirations of obtaining this reputation, but it is even more crucial for family members because of the social stigma they face of receiving handouts.
If family members set the tone at the office daily with hard work and a positive attitude, preferential treatment issues will be limited and employee productivity will increase across the board.
Make Relationship-Building a Priority
Family members working at the company must also foster strong relationships with other corporate team members. They need to make a concerted effort to connect with fellow employees on their level and learn about what makes them tick, personally and professionally. They can accomplish this by asking questions about their family, seeking out their advice on tough projects or taking them out to lunch.
Family members can disarm skeptical colleagues by making them feel important and respected. If family members make the mistake of neglecting their fellow employees, they will cause internal rifts and alienate themselves by appearing arrogant and elitist. However, if they empower colleagues by enlisting their help and treating them as equals, the family members and the business will thrive.
Find the Balance
None of this will work if the employee and employer aren't able to separate their business lives from their personal lives. Understandably, because of the very nature of working within the family, there will be some unavoidable overlap. However, if that overlap turns into three hour lunches or half day meetings, there's a problem. Also, knowing when to part ways for the greater good is critical. If the personal relationship is negatively affecting the business, you must have the ability to sever the professional relationship to reset the balance between business and personal.
Finding an appropriate balance is the most difficult challenges franchise executives face when working in the family business. It's not always possible to block out family problems that directly affect productivity. It's natural to want to talk those things over during the day considering the family is at the office. That's fine, but those conversations must be quick and effective.
It's tough to do but it's possible and necessary. Well-run franchise systems are defined by clear cut and effective policies and processes. Make it a policy that all one-on-one meetings are limited to 15-20 minutes and managed by a strict agenda. That way family members don't have the time to get distracted and disrupt the flow of the business.
Have Fun
Family businesses present employees a unique opportunity to work alongside the people that matter most in their lives. That makes everything better when the business is doing well, and considerably more agonizing when it's not. The emotions involved exaggerate the good and the bad and it can make the family business both highly rewarding and overwhelming stressful.
At the end of the day, the personal relationships involved are more lasting and important than the professional relationships. If the job is driving the family apart, it's time to make a career change. If not, stick to it because no business success is more rewarding and enjoyable than the success shared with family.
Download This Article by Michael Plummer, CEO, Our Town America, Inc.