WFLA TV (July 2014) – Channel 8's Gayle Guyardo sits down with Our Town America of Tampa franchise owner, Mike Fisher, and first winner of 2014 Quarterly New Mover Survey Contest on July 10, 2014 segment.
Five times each year, Our Town America randomly selects a winner from the thousands of new movers who take time out of their busy schedules to provide feedback on their moving experience by completing our New Mover Survey.
This year, Tampa's very own David and Wendalyn Cooper were selected as the first winner of our 2014 Quarterly New Mover Survey Contest, resulting in their recent prize of a $250 prepaid gift card from Our Town America.
The Cooper's, who provided positive feedback on their experience with the program, were originally welcomed into their new Tampa-area neighborhood by the Our Town America Welcome Package. "We felt extremely blessed because each certificate represented a current need of our family."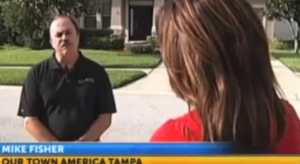 With approximately 20,000 moves in the Tampa Bay market area per month, Penske Truck Rental named the Tampa/Sarasota area number two of the top 10 cities people are moving to in the United States 1. Mike Fisher, the Our Town America - Tampa franchise owner, is responsible for filling each Welcome Package with valuable offers and information from each of his Tampa-area's sponsor businesses.
A matchmaker if you will, Fisher's goal is identical to Our Town America's 40+ year company mission to connect seeking new movers with local businesses who welcome new residents with open arms.
Watch full WFLA TV story here!

Source: Penske Truck Rental 2013 Top Moving Destinations List