Franchising USA (May 2015) – For families who have just moved into a new community, finding all new services like salons, pizza joints, doctors, dentists and even hairstylists can be daunting.
That's where Our Town America steps in, connecting those new arrivals with the businesses that want to extend a warm welcome and gain new customers.
"Our organization essentially connects those new families with those businesses who need them," president Michael Plummer Jr. said during a recent interview from the company's headquarters in Pinellas Park, just outside Tampa, FL.
The company has been in operation since 1972 and is family owned, with Plummer having taken over the operations of the company from his father, who started it.
Late Franchising Bloomer
While the company has been around for a number of decades, it actually only started franchising in 2005. Prior to franchising, it issued licenses to people to use the brand. These were generally people that Plummer's father knew throughout the decades and all those licensees are now franchisees.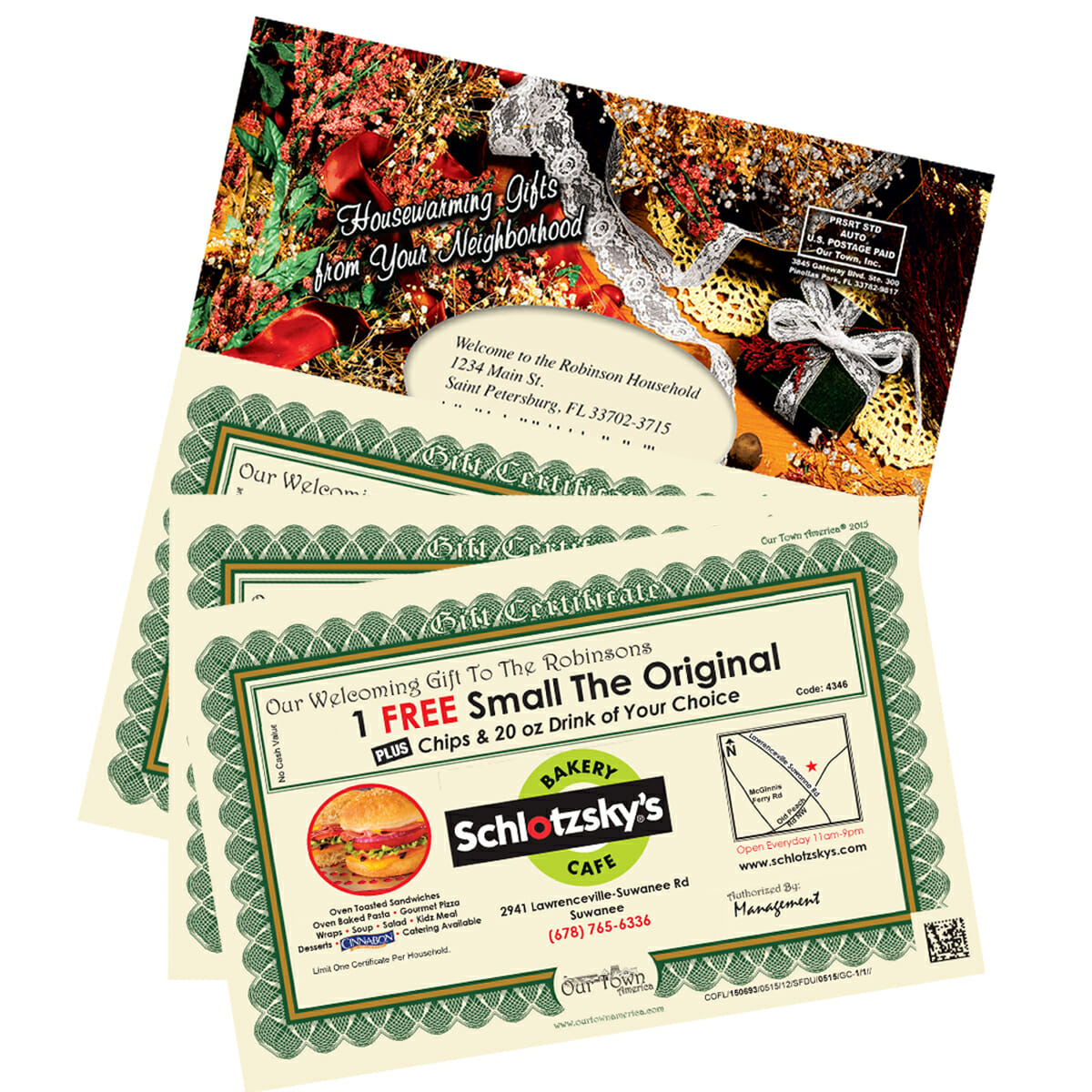 "Franchising proved to be practical for Our Town America in 2003 when we went through a major technological upgrade, switching to variable printing," Plummer said. After that, they started the process of becoming a franchise business in 2004 and by 2005 were legally able to start franchising.
Now, the company boasts 55 franchisees positioned all over the country, but focused mainly in the Mid-West and on the East Coast.
On the Move
"Our Town America has locations available across the country," Plummer said. "This is one franchise that can be successful in smaller markets as its success is largely dependent on the number of movers."
Considering that 17 - 20% of Americans relocate each year, there will always be a lot of potential new customers for businesses to reach out to in their area.
For families who are new to a community, it's a great welcoming gift. Even if people are only moving to the next town, they still have to find all new services in that new town. And Our Town America helps those businesses connect with new potential customers.
"We're the personal invitation for the businesses to stand out from the crowd," Plummer said.
So, a salon could put a gift certificate in the Our Town America package for a free haircut. The new family is then personally welcomed to their new neighborhood by the salon with the free haircut and likely to become a loyal customer.
Looking for Relationship Builders
Because the company is all about facilitating relationships —between recently relocated families and businesses, as well as between those businesses and Our Town America — Plummer is looking for franchisees who are not only sales oriented, but who really understand the importance of these relationships.
"What we really want is a relationship maker, a networker, a community builder, someone who is able to connect with people," he said. Some of his most successful franchisees have a background in retail, marketing or sales. "Those who connect and communicate well with others do great with our franchise model."
Getting Specific
Over the years, Plummer has found that the newly arrived families are more apt to open the welcome packages as it's not perceived as everyday advertising - but as housewarming gifts. In addition to targeting newly arrived families, Our Town America also provides their clients the option of targeting by various demographics.
For example, Plummer said that a rent-to-own business could use Our Town America to specifically target new arrivals within a five mile radius who have an income level of over $50,000 and who are between the ages of 20-40. Any new arrivals that fit that profile would be targeted, while those who did not would not be targeted.
Support and Training
"Sales people should be out there selling," Plummer said. "Which is why Our Town America wants to make things as simple as possible for new franchisees." The company offers assistance in the way of production, creating graphics, creating invoices and even setting up appointments with business owners. Ideally, Plummer wants them to primarily concentrate on connecting with local businesses.
Veteran-Owned
In addition to being family-owned, Our Town America is also veteran-owned, as Plummer was a combat medic with the United States Army from 1997 - 2001. For any honorably discharged veterans, he gives a $10,000 discount on the franchising fee.
For anyone looking to invest in a home-based franchise business offering flexibility and a steady income, Our Town America offers just the thing. Apply online by filling out a Franchise Application.
View article in Franchising USA's Veterans in Franchising, Pg. 13-14.