New Mover Lists & Welcome Package
The Best New Mover List In The Industry
How Do We Find the New Movers in the Neighborhood?
Each month begins with an empty name file. New mover intelligence is provided by nationally recognized suppliers that identify individuals who have filed some forms of address change during the past 30 days, resulting in our receipt of millions of names of new movers. While this data most often signifies a recent move, there are exceptions. This information is processed through our proprietary system as a means of identifying and eliminating potential errors with the new effect of our discarding as much as 60% of them as not being new movers. Sources of this information vary by community, to some extent, but examples of the sources are:
Deed Transactions, Credit Cards, Utility Connections, Credit Bureaus, Magazines, Driver's Licenses, Voter Registrations
| Standardization | Duplication Elimination | Address Duplication | Name/Address Comparison |
| --- | --- | --- | --- |
| Addresses are standardized for postal validation. | The typical mover communicates to 9 sources of his or her address change. Duplicates are eliminated. | We do not mail to the same address for 6 months. | We compare every name to our historical database of 350 million households. We will not mail to the same name and address forever! |
Final Post Verification is From the Postal Service Itself!
92-95% ACCURACY
Our Town America Discards as Many as 60% of Names Because They Don't Meet Our Specific Criteria
One of the most significant determinants of your campaign's success is the quality of your mailing list. This is why targeted mailing lists, such as our new mover lists, are so valuable — they increase your probability of success.
List Sources: Every month we analyze the best available sources. No one source provides perfect information, so we purchase from several.
New Mover Welcome Package
Psychological Triggers
Prompt Opening
Personally Addressed
Warm Colors, Texture & Graphics
Large 6″ X 9″ Size Stands Out
[one_half last="no"]
Inside the New Mover Welcome Package
[checklist icon="envelope-alt" iconcolor="#ffffff" circle="yes"]
Warm Welcome Letter

– Provides a Brief Explanation as to Why They Have Received These Gifts. Puts Focus on the New Mover and Their Individual Needs.

New Mover Survey

– Provides Valuable Feedback

Genuine Gift Certificates

– Proven Offers From Local Business Sponsors

Community Magnet

– Available Upon Request
[/checklist] [/one_half] [one_half last="yes"]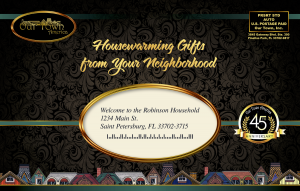 [/one_half]
Our Gift Certificate Format Invites These Searching Families To Visit Your Business.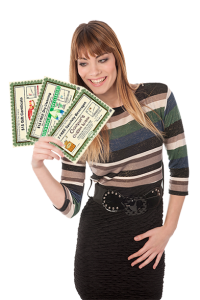 [two_third last="yes"]
Features & Benefits
Generous Offers – No Strings Attached
Custom Designed for Your Business
Convenient & Practical Map
Large 5.5″ x 8.5″ Format
Projects Professional Image
Authenticates & Conveys Value
Simple & Clean
Redeemable with Expiration
"Authorized by:" Signature
Rich Parchment Paper Using Gold Metallic Ink.
Creates Urgency
Ensures Trackability
[/two_third]
Preferred Vendors
[images lightbox="yes"] [image link="" linktarget="_self" image="http://www.newmover.com/wp-content/uploads/2012/07/FantasticSams.png" width="{{width}}" height="{{height}}" alt="Fantastic Sams Hair Salon New Mover Advocate Our Town America Sponsor"] [image link="" linktarget="_self" image="http://www.newmover.com/wp-content/uploads/2012/07/FigarosPizza.png" width="{{width}}" height="{{height}}" alt="Figaros Pizza New Mover Advocate Our Town America Sponsor"] [image link="" linktarget="_self" image="http://www.newmover.com/wp-content/uploads/2012/07/GreatClips.png" width="{{width}}" height="{{height}}" alt="Great Clips New Mover Advocate Our Town America Sponsor"] [image link="" linktarget="_self" image="http://www.newmover.com/wp-content/uploads/2012/07/LittleCaesars.png" width="{{width}}" height="{{height}}" alt="Little Caesars Pizza New Mover Special Our Town America"] [image link="" linktarget="_self" image="http://www.newmover.com/wp-content/uploads/2012/07/Quicklane.png" width="{{width}}" height="{{height}}" alt=""] [image link="" linktarget="_self" image="http://www.newmover.com/wp-content/uploads/2012/07/Woodys.png" width="{{width}}" height="{{height}}" alt="Woodys New Mover Advocate Our Town America Sponsor"] [image link="" linktarget="_self" image="http://www.newmover.com/wp-content/uploads/2012/07/SportClips.png" width="{{width}}" height="{{height}}" alt=""] [image link="" linktarget="_self" image="http://www.newmover.com/wp-content/uploads/2012/07/Subway.png" width="{{width}}" height="{{height}}" alt=""] [image link="" linktarget="_self" image="http://www.newmover.com/wp-content/uploads/2012/07/Blimpie.png" width="{{width}}" height="{{height}}" alt="Blimpie America's Sub Shop New Mover Advocate Our Town America Sponsor"] [image link="" linktarget="_self" image="http://www.newmover.com/wp-content/uploads/2012/07/ChickFilA.png" width="{{width}}" height="{{height}}" alt="Chick-fil-A New Mover Advocate Our Town America Sponsor"] [image link="" linktarget="_self" image="http://www.newmover.com/wp-content/uploads/2012/07/HyVee.png" width="{{width}}" height="{{height}}" alt=""] [image link="" linktarget="_self" image="http://www.newmover.com/wp-content/uploads/2012/07/JetsPizza.png" width="{{width}}" height="{{height}}" alt="Jets Pizza New Mover Advocate Our Town America Sponsor"] [image link="" linktarget="_self" image="http://www.ourtownamerica.com/wp-content/uploads/2014/07/Massage-Envy-Spa-logo.jpeg" width="{{width}}" height="{{height}}" alt="Massage Envy New Mover Advocate Our Town America Sponsor"] [image link="" linktarget="_self" image="http://www.newmover.com/wp-content/uploads/2012/07/Marcos.png" width="{{width}}" height="{{height}}" alt="Marcos Pizza New Mover Advocate Our Town America Sponsor"] [image link="" linktarget="_self" image="http://www.newmover.com/wp-content/uploads/2012/07/NexPet.png" width="{{width}}" height="{{height}}" alt="NexPet New Mover Advocate Our Town America Sponsor"] [/images]