Introduce Your Restaurant to New Movers.  Our New Mover Welcome Package can  exclusively feature your restaurant alongside other one-time housewarming offers that arrive at the home of new movers.  Local restaurant marketing strategies that focus on new movers have seen response rates as high as 22%.
New Movers spend more in their first 6 months following a move than the average consumer spends in many years.
Since 1972, Our Town America has helped thousands of businesses target new movers.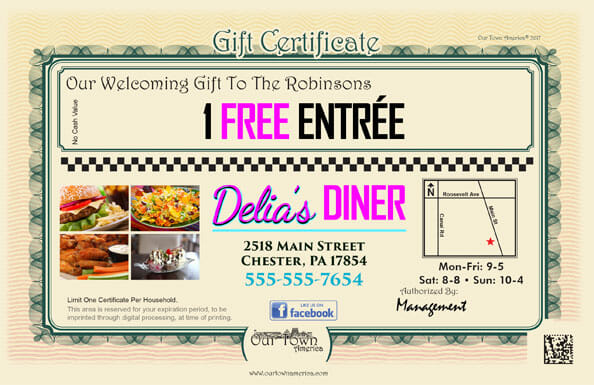 What Is New Mover Marketing for Local Restaurants?
Your restaurant will be featured in our New Mover Welcome Package with an exclusive one-time housewarming offer.  We only partner with one business in each category, making our recommendation to new movers for

your

local restaurant - should you claim your desired ZIP codes. 

You don't want your competition get the community exposure instead. Stick with 

a marketing plan that doesn't throw your restaurant in with many others leaving the ROI up to happenstance.

Stick with the industry-leading marketing program, known for 48 years now as Our Town America.

We have nearly five decades of data to guide us in building the best new mover local restaurant marketing program for your business.  Did you know that offering a free pizza, for example, to a family new to the neighborhood is almost guaranteed to create loyal customers?
Why New Mover Marketing for Restaurants? Read Our Testimonials.
"Every time we add a new store it's always a great decision. It depends on the market, but we get about 10-60 redemptions per month. We are seeing that people are spending more than we give in the certificate. We have actually tried quite a few other new mover programs, this by far has been the best that we've done."

- Tiffany Downing of Broadway Pizza

"We started with Our Town in June, so to date we've got about 96 new customers that have come in to the Belcher location, and actually once they redeem that gift certificate by coming into our restaurant, Our Town actually sends a second mailing – it is a buy one, get one free on any food item."

- Tori Thrower of Joto's Pizza

"We've been with Our Town for 7 years and we've had a great response. It's really benefitted my business – probably the most of any advertising source. We get all the new movers that come to our area. I'm extremely happy."

- Aaron Hyatt of PT's Grille
Ready To Attract New Customers?
Are you ready for your local restaurant to be featured in our New Mover 
Welcome Package? Get your free, no-obligation market analysis today.