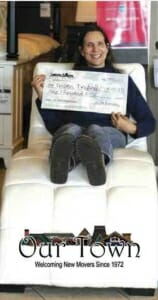 Susan L. Tribull is the 2011 Our Town Survey Winner.
"Jessica,
Where do I begin? First, thank you for all of the discounts and free gifts that the Our Town America Welcome to the neighborhood package provided me. It really made me feel welcome, made the holidays even more festive, and not only that, connected me with new businesses in the area that in some cases, I was not even aware existed. However, you were able to discern my consumer needs and habits; you hit the nail on the head with the right choices of products and services! Using the coupons came in handy and was so much fun for me, that I felt compelled to complete the survey, to encourage Our Town America in their generosity and services.
When I heard from you about winning the furniture shopping spree at American Signature Furniture, I could hardly believe my good fortune, more gifts from Our Town America! Meeting you, Jessica, being presented with the gorgeous flower arrangement from Walnut Hill Floral Studio, the kind attention and advice from John and David of America Signature Furniture, was beyond what I could have ever imagined. It was a combination of the kindness and generosity that I had experienced receiving the coupon package in the mail. The special treatment, meeting you, the gifts from Our Town America, have meant more to me, done more for me, than you can imagine.
After returning home from American Signature Furniture that day, I placed the beautiful flower arrangement on an old antique sewing table in my living room. The addition of these magnificent flowers illuminated the little sewing table, a family heirloom, and I began to envision ways of accentuating the drab little corner where it lived. A few days later the furniture arrived from American Signature Furniture and once again a transformation occurred that I hadn't expected. I began to play with pieces of furniture, art and accessories, I had allocated to Craig's List for lack of knowing what to do with them. The new and old pieces, art work, antiques and family heirlooms dating back to our family's beginnings in this country now seemed to gall magically together in a pleasingly eclectic experience. The pieces that I had not until then imagined being able to use, found a place of harmony among the new.
It was a very dramatic demonstration for me of how I had written off certain qualities in my life as impractical, downsized them out, if you will; beauty, comfort, art, creativity, having ANYTHING NEW, as well as having casually dismissed my experiences and history as having any practical implications to a new future for myself. The new living room is evidence that possible we all have those odd, and seemingly unrelated pieces in our lives that for a gift from a generous benefactor might effortlessly fall into place, giving us some glimpse of the future, one we hadn't expected or imagined.
Thank you again for the gifts. What a magnificent and exciting metaphor with which to begin my new life.
By the way, offer for interviews have been pouring in. You're Good!
Thanks Our Town America!
Gratefully,
Susan L. Tribull"