How Does New Mover Marketing with Our Town America work for your local business?
Take a quick tour!
Our New Mover Marketing Program is a two-part system that will get new customers through your door. Make an amazing first impression and keep them coming back!
1. The First Mailing: Your Gift Certificate in the Welcome Package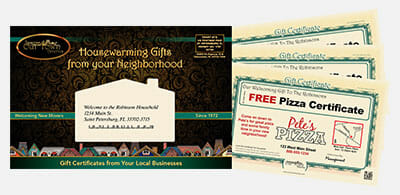 Each month, your gift certificate arrives to the home of new movers inside a personalized Welcome Package from the community. This is perceived by the new mover as pure hospitality and NOT advertising. Our Welcome Package is refreshingly different and we have the feedback to prove it! 
This Welcome Package has been market-tested for over 50 years and proven to attract new customers, get opened, and acted upon.
2. Optional Second Mailing: "Thank You" Postcard
The optional second mailing is a custom designed, full-color postcard sent out to those that have redeemed your gift certificate. We take care of the design, printing and mailing for you! This feature is included for our annual business sponsors at no extra charge! The "thank you" postcard is an incredible
 way to thank the new movers for stopping by your business and invite them back with an additional offer!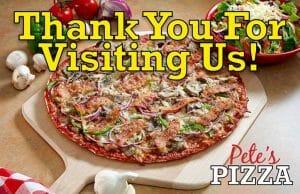 ---
We offer the best new mover marketing campaign and it's a smart choice for your business.
---
Exclusivity for your Business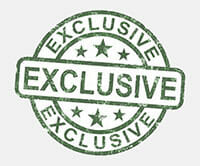 Because we only partner with one of each business type in any specific zip code, this allows you to lock out your competition.  Not only will you be the only business or service provider of your type welcoming new movers each month, you can fine tune your targeting by ZIP code. Choose an area as small as one ZIP code or as large as the entire country! 
Innovative Tracking and mobile app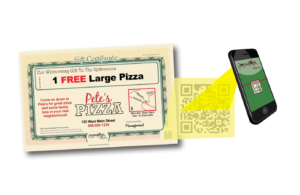 Keeping track of results is important and we developed a revolutionary way to see your activity and performance. Our TruTrak® system records redemptions and automatically triggers an optional "thank you" postcard. From SponsorWeb you can check your activity, survey feedback and demographics. See just how many New Movers have been welcomed each month, broken down by ZIP code. View messages, invoices, and redemption lists to refine your other direct marketing efforts.
New Audience of Movers Every Single Month
Up to 20% of the US population moves each year. New movers spend more because they have no established habits or loyalties. Our unique new mover marketing program makes it possible for you to target a broad audience every single month. Our proprietary software can estimate response rates and maintain a high level of accuracy to avoid wasted coverage and maximize your advertising dollar. Reach a different set of new movers every month before your competition does! New movers are nobody's customer. Let's make them yours today!
---
Discover how new mover marketing works for popular industries:
---
Contact us below or Meet Us to get started!