We count on your reviews to make sure we have selected the very best businesses in the area. We use your feedback to improve existing offers and to help future new movers feel at home! If you have a few moments, we ask that you complete our New Mover Survey and leave us a review on Facebook, Google & Yelp. In exchange, you can win some great prizes including a cruise or a Visa gift card!
NEW MOVER SURVEY & REVIEW DRAWINGS
Periodic Review Drawing
Simply write a review sharing your experience with our New Mover Welcome Package. We want to know how you felt about the gifts from local businesses. Winners selected at random.
Reward: $25 Prepaid Gift Card
Review Us On Google  Review Us On Facebook Review Us On Yelp
Check back on your review often to see if we have replied. If we ask you to send us an email, we may be attempting to inform you of your winnings. Good luck!
---
Annual and Quarterly New Mover Survey Drawings
By taking our New Mover Survey or using the Our Town Deals™ App, you are entered into two drawings:
1) Annual Drawing: $3,000 check or $3,000 towards a cruise (airfare included)! Winner drawn at random each April.
2) Quarterly Drawing: $250 prepaid Visa Gift Card! Winners drawn at random each March, June, September & December.
How to Enter
We will collect some basic information to verify you were sent a New Mover Welcome Package.
-OR-
Download Our Town Deals™ for iOS or Android & redeem an offer to be entered.

Our Town Deals™ App means Digital Offers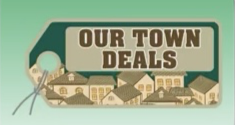 Please Note:
• If it has been more than 3 months since you received your package, you need to send your survey via postal mail.
• You must have used at least 1 certificate to submit the survey.
• By entering your email address, you agree to receive special offers from Our Town America & our affiliates.
• If you are using the Our Town Deals™ App, you must fill out at least 1 survey within the app to be entered.