Our New Mover Marketing program for pizza restaurants works because two things are certain: many people move into new residences every month, and all of them need to eat. Your customers like pizza, they will love your pizza, and pizza makes a great easy meal when all your pots and pans are still in boxes. Pizza is a $30 billion-per-year industry; that's where our new resident mailing lists come in.
New mover marketing and advertising delivers large audiences, at exactly the time they're most likely to try your pizza.
Our New Mover Advertising campaigns, based on historical data in the pizza industry, see varying response rates, but it's not unheard of to get about a 28% response. Not only in direct mail marketing, but in any kind of marketing, that's an extraordinary response. One out of four new residents redeem the free gifts our partner businesses offer.
Direct mail, including postcard marketing, is still one of the most effective methods for marketing your pizza restaurant. According to the U.S. Postal Service, 98% of Americans check their mail on a daily basis. Email marketing can overwhelm recipients, as they receive dozens of emails daily. New movers receive mail once per day, at a specified time. Who doesn't love to get mail? Especially a surprise 'welcome to the neighborhood' gift like those in our New Mover Welcome Package? And who doesn't love pizza?
Our New Mover Welcome Package addresses new customers by name.
Our advertising and marketing company addresses these new residents by name, not a generic greeting. People love seeing their own names written on mail! Not only will your prospective customers be inclined to open this direct mail marketing piece addressed directly to them, but they will also be intrigued by the 'Housewarming Gifts from Your Neighborhood' text on the front of this beautifully crafted, oversized envelope.
Your pizza restaurant is the only pizza restaurant in our New Mover Welcome Package in your area.
Your pizza restaurant stands out from others in your area because yours is the only pizza restaurant in our New Mover Welcome Package. You won't find this exclusivity for businesses like yours in any other new resident marketing program. You introduce your business to new movers before your competition even has a chance!
Keep up the momentum with your own postcard marketing campaign.
Marketing your business with postcard mailings lets you connect with potential and existing customers on a more one-to-one basis. Conceiving a great offer, eye-catching design, quality printing, the right addresses from current mailing lists -- our new mover marketing experts have over 50 years of historical response rates to make your postcard marketing campaign a huge success.
How do we keep our new resident mailing lists fresh?
Once these new movers redeem their one-time housewarming offer, the gift certificate is scanned to gather accurate tracking data, as well as to trigger a second loyalty mailing. These redemptions prove the accuracy of our new mover mail lists.
This loyalty mailer is a one-time postcard mailed to the new mover shortly after they redeem their New Mover Gift Certificate. This loyalty mailer allows you to present new residents with a second offer, or just simply thank them for stopping in and invite them back. This shows that your pizza marketing is in tune with the neighborhood and that you go the extra mile.
Our New Mover Marketing Program is the smart way to advertise your business.
While there are many ways to market your business, there is nothing like our New Mover Marketing program; a trackable, full-color one-time mailer to new residents, personalized by name, gifting free offers (not just discounts), exclusive to your pizzeria and offering a second follow-up mailer.
If you are looking for a way to ramp up your pizza marketing, look no further than your own backyard. Our Town America is available in all US markets; we would love to create a bridge between your business and your potential customers and help turn them into long-term, loyal customers.
Let's get started! Contact us and let's discuss how we can develop a pizza marketing strategy that will work for you!
Want your pizzeria featured in our welcome package? We only need a little information and one of our New Mover Marketing Experts will contact you for a free market analysis.
A quick glimpse of how it works:
1. The First Mailing: Your Offer in the Welcome Package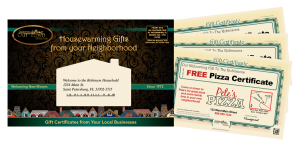 Each month, your offer arrives to the home of new movers inside a personalized Welcome Package from the community.
Our welcome package has been market-tested for over 50 years and proven to attract new customers, get opened, and acted upon.
2. Second Mailing: "Thank You" Postcard
The second mailing is a custom designed, full-color postcard sent out to those that have redeemed your offer. We take care of the design, printing and mailing for you!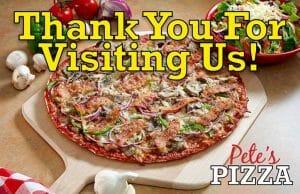 ---
We have the best new mover marketing campaign for pizza shops and we have the feedback to prove it!
---
Exclusivity for your Business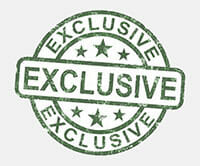 Because we only partner with one pizza restaurant in any specific zip code, you can lock out your competition. Choose an area as small as one ZIP code or as large as the entire country! 
Innovative Tracking and mobile app
We have a revolutionary way to see your activity and performance. Our TruTrak® system records redemptions and automatically triggers the second mailing. 
New Audience of Movers Every Single Month
Is your pizza the best that the area has to offer?
Contact us today for a free, no-obligation market analysis!