When people move to a new location, they need a new auto mechanic, maybe even a new car or truck. A vehicle is an everyday necessity, and people want service they can trust. A business loses 10-20% of its customer base annually due to car owners moving away. But how does an auto dealer or mechanic market their services? Target new movers in your area with our New Mover Marketing Welcome Package and Postcard Marketing programs.
Car dealerships and auto repair shops rank among the most popular industries in our New Mover Marketing Welcome Package – touting high response rates. Marketing your dealership or shop has never been easier -- or more effective. Reaching your customers with regular offers with marketing postcards that we design and print for you helps you sustain that momentum.

New movers are nearly twice as likely as established residents to purchase a car (new or pre-owned) within the first year of their move. New movers redeem offers like "one free oil change" and "one free car wash" at high rates, which makes them ideal customers in your marketing mix. Our New Mover Marketing program offers category exclusivity – meaning your auto business gift certificate will be the only one in your category within our Welcome Package, like a dentist or a hair salon. Keeping your competitors out of our New Mover Marketing Welcome Package is just as important to your marketing plan as putting your business in it.
Movers who have relocated due to a job change, marriage, children, etc. benefit from a neighborly, helping hand. Marketing your auto business meets one of the most important tasks in a move -- finding a new favorite auto repair or auto service shop or a reliable car dealership in your area. Proactive contact with new movers is the first step to a loyal relationship with your customers, and your own direct mail marketing postcards help keep your business top-of-mind, especially in emergencies.

Your personal and valuable offer to new movers is key.
Success is in the details. Our personalized New Mover gift certificates stand out in the mail, and we coach you on the best proven marketing offer to help you obtain a high response rate.
Your list of new movers is accurate and complete.
At Our Town America, we build quality new mover marketing lists from various sources to ensure little to no wasted coverage.
Your follow-up should develop your relationship with your new customers.
Use our TruTrak® mobile app to track your response – you can see who redeems your free gift and create a follow-up offer that expresses your appreciation for their business. You also have the option to reward them with a secondary offer, then continue with your own marketing campaign with postcards. Keep new movers coming back to your dealership or repair shop!
Are you ready to be included in our New Mover Welcome Package? Fill out our contact form or call 800-497-8360 ext. 226.
Want your shop featured in our welcome package? We need a little information about your business and one of our New Mover Marketing Experts will contact you to discuss our proven offers for automotive shops.
A quick glimpse at how it works:
1. The First Mailing: Your Offer in the Welcome Package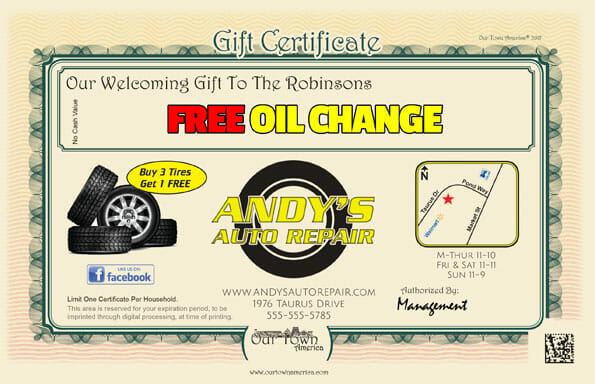 Each month, your offer arrives to the home of new movers inside a personalized Welcome Package from the community.
Our welcome package has been market-tested for over 50
years and proven to attract new customers, get opened, and acted upon.
2. Second Mailing: "Thank You" Postcard
The second mailing is a custom designed, full-color postcard sent out to those that have redeemed your offer. We take care of the design, printing and mailing for you!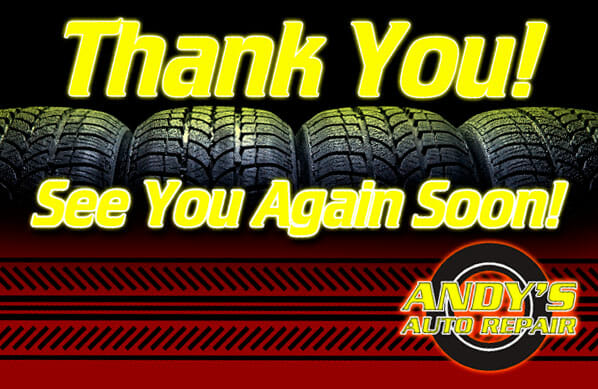 ---
We have the best new mover marketing campaign for the automotive industry and we have the feedback to prove it.
---
Exclusivity for your Business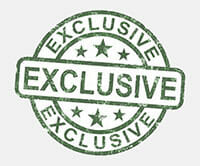 Because we only partner with one automotive shop in any specific zip code, you can lock out your competition. Choose an area as small as one ZIP code or as large as the entire country! 
Innovative Tracking and mobile app
We have a revolutionary way to see your activity and performance. Our TruTrak® system records redemptions and automatically triggers the second mailing. 
New Audience of Movers Every Single Month
Up to 20% of the US population moves each year. New movers spend more because they have no established habits or loyalties. Our unique new mover marketing program makes it possible for you to target a broad audience every single month. The automotive industry is a highly sought after market following a move.
Don't lose to your competition. Contact us today!