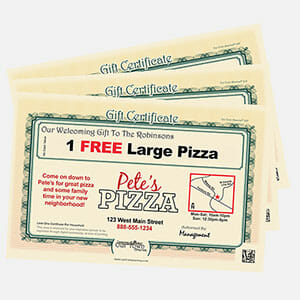 We know that keeping track is important and when you partner with Our Town America you are trusting that your business will see results from our New Mover Marketing Program.  We know that your time is important and that is why we built TruTrak®.
TruTrak® is loaded with great features to make managing your sponsor account with Our Town a breeze! Track your return on investment, gather detailed demographic data of your new customers, and trigger your second mailing. All from your iOS1 or Android device2.
With the TruTrak® app, you can validate and scan redemptions at your own point of sale or at your leisure. Avoid the hassle of physically mailing in Track Pack Envelopes by tracking your redemptions digitally.
The last release of TruTrak® brings a number of improvements:
Rebuilt from the ground 

up 

Improved performance

New look & feel!

UI/UX Consistency between iOS and Android platforms

Faster Scanning Response

View your current certificate images

Access scanning feature from any page

Improved bulk scanning feature

Instant menu-driven navigation

Direct access to QuickScan™ from any page

Greatly improved account information section
If you're an active sponsor with Our Town America, download the TruTrak® app today and see how it easy it can be to keep track of what is most important: your results!
1 Supports iOS 9 and higher
2 Supports Android 6 and higher
Apple, the Apple logo, iPhone, and iPad are trademarks of Apple Inc., registered in the U.S. and other countries and regions. App Store is a service mark of Apple Inc.
Google Play™ store is a trademark of Google LLC.