Franchising USA (October 2018) — As a three-year veteran of the U.S. Army who served during the Vietnam War, Larry Neal demonstrated discipline and commitment. As a corporate manager for 25 years, he learned and honed sales skills. As a self-employed home builder during the Great Recession, Neal experienced the value of persistence.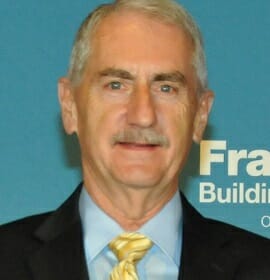 All of those chapters of his life culminated in the decision by Neal and his wife, Paulette Neal, to purchase their first Our Town America franchise in Detroit in 2006. And by applying lessons from each of them, Neal has succeeded handsomely: The couple now own and operate three Our Town America franchises and have become regional developers, as well.
Neal has found a particular fit for his military experience with the management philosophy and approach to business taken by Our Town America, which now counts three veteran-owned franchise units among 65 overall franchise locations.
"In the U.S. Army, I learned about the value and effectiveness of sacrificing your individual desires in the service of large and important collective goals," Neal explains. "I also saw how important it is for a group to have a proven road map to achieve its goals.
So when it comes to Our Town America, Neal says, "The business model itself is a perfect fit for veterans because each owner can follow a blueprint of proven processes and procedures toward personal success."
In the early 1960s, Neal decided to leave his home town of Ironton, Ohio, to enlist in the Army.
"High-school graduation meant either working at the local steel mill or a life in the military," he recalls. "I chose the Army."
Neal's Army service came just as the Vietnam War was escalating.
"My experience in the Army was eye-opening," he says. "It showed me there was more to the world than just a little town in southern Ohio. I enjoyed the experience of the Army."
After discharge, Neal went to work for a multinational chemical corporation and excelled in sales roles for two and a half decades. He had begun building homes as a part-time job, and after "retirement," Neal slid into building homes on a full-time basis.
But the brutal recession beginning in 2008 shook his world because the national housing bubble burst. So, Larry and Paulette decided to investigate the possibilities for owning a franchise. Our Town America proved to be a perfect match, and not only because Neal could apply leadership lessons he'd learned in the military.
"It hit my sales niche; it didn't require a physical building or any employees," he says. "I was able to run my business the way I see fit. Our Town America is a phenomenal organization."
And Our Town America does more than its part to help veterans like Neal find that fit. For U.S. military veterans, the company offers a $10,000 discount on the franchise fee.
"It's already an affordable, home-based franchise opportunity," Neal says. "It truly is a win-win, because you can make a huge difference in your community while successfully realizing your own entrepreneurial dreams. All veteran business owners want to be able to make a powerful impact in their community, but that desire is meaningless unless the business model fits their skill set and bank account."
For information about opening an Our Town America Franchise, please visit www.ourtownamerica.com/franchise-us or call 1-800-497-8360.