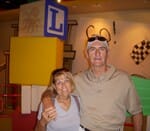 Our Town America is structured as a relatively low cost franchise business that is an excellent fit for self-motivated entrepreneurs who are interested in sparking long-term, loyal relationships between local businesses and new movers. "Most of our franchisees have been with us for over 10 years," reports Michael. In addition, they love the flexible business model (many work from home) and appreciate the amount of corporate support delivered by Michael and his team.
Larry Neal, a Vietnam Veteran and Our Town America franchisee since 2006, said you would be hard pressed to find a franchisee who has anything bad to say about this company. "The relationship between the franchisor and the franchisee is very solid because of the support provided to us in the field and the constant upgrades to the operations." Larry, his wife and, more recently, their daughter now own three franchises and he said, "I make more money than I've ever made in my whole life."
Click here to indulge in the full article!
Posted by: The Alternative Press.
Retrieved from: CareerFuel.