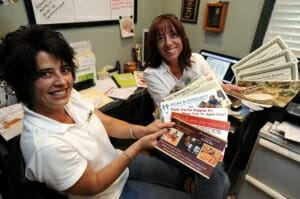 Our Town America's Jess Damiani and Heather Wahl Receive Rare Gift, Valued at More than $40,000, at Recent Annual Convention
Franchising.com, April 26, 2012, Philadelphia, PA – Franchisors nationwide are constantly searching for thoughtful, yet cost-effective, ways to celebrate their most successful franchisees. Some offer monetary incentives, such as a bonus for their performance or an all expenses paid vacation, and others create programs that provide their most profitable franchisees with perks and benefits others don't receive.
Source: Franchising.com

Brittany is the head of Our Town America's corporate marketing department. She specializes in digital and print media, social media, and public relations.