How Does New Mover Marketing with Our Town America work?
Our New Mover Marketing Program is a two-part system that will get new customers through your door & keep them coming back!
1. The First Mailing: Your Gift Certificate in the Welcome Package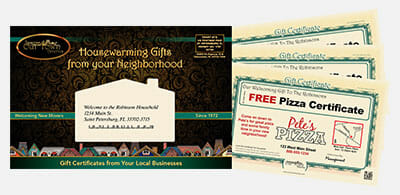 Each month, your gift certificate arrives to the home of new movers inside a personalized Welcome Package from the community.
It is proven to get opened & acted upon.
2. Optional Second Mailing: "Thank You" Postcard
The optional second mailing is a custom designed, full-color postcard mailed to those who redeem your gift certificate. We take care of the design, printing & mailing at no extra charge. T
hank them & invite them back with an additional offer.