Company History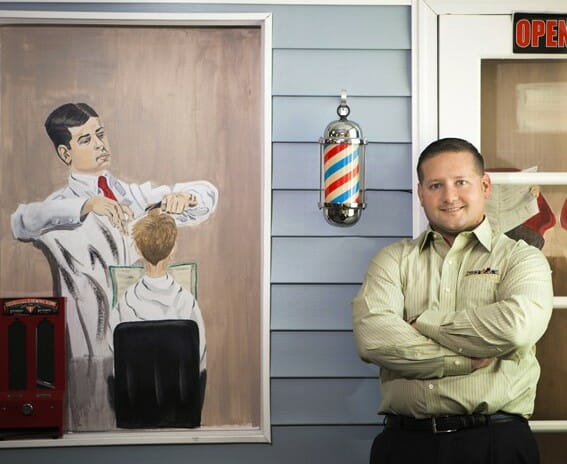 Hello. My name is Michael Plummer Jr., now President of Our Town America -- son to our founder, Michael Plummer Sr.
It was in 1972, while running a retail business, that my father discovered the power of welcoming my new neighbors. It, as all of the other media I attempted, had its flaws. However, it didn't take long for him to realize the unparalleled, long-term benefit of reaching out to people while they were in the midst of adjusting to their new surroundings.
He did this by inviting them in with a genuine, one time gift. The results were simple to measure: they tried his food. From that point on, he continued to see many of the same faces return time after time — with no need for further advertising. Just good food and great service kept them coming back. The math was easy. His investment of less than a dollar resulted in bringing in a family worth hundreds of dollars every year.
Over 50 years later, businesses still struggle to find new customers. And there are a lot more ways to reach people. Our simple, yet powerful, concept of Inviting New Movers into a business still works more effectively than all of the others. Getting people in your doors to experience what you have to offer is still all that matters. Our Town America does that by reaching your most likely future customers — your new neighbors.
The only thing that has changed since 1972 is our distribution process. We've grown from welcoming a few hundred new families each month, to introducing over 6 million people per year to local businesses. Despite the necessary changes and innovation to keep up with our fast-paced growth, we maintain the highest integrity and quality in all aspects of our program.
Our Mission
Our two-fold mission has remained the same after 50 years: 1) to help new movers adjust and feel welcomed into their community by recommending local reputable businesses, and 2) to help local business sponsors reach a new audience of new movers every month, resulting in new loyal and long-term customers every month.
Meet Our Corporate Executive Team
Jason Strickland
IT Director
Dawn O'Neil
Graphics Manager
Steven Sgroi
National Sales Manager
Elizabeth Roecker
National Insert & Billing Manager
Brooke Hardy
Franchise Services Manager
Brittany Johnson
Chief Marketing/ PR Officer
Nikki Bowden
Appointment Setting Manager
Andrea Juliana
Sponsor Services Manager
Jose Milian
Director of Operations
Christina Cagnina
Postcard Marketing Specialist
Our Town America Key Facts
 Our Town America corporate occupies a 40,000 square feet building, including offices and administration, creative, printing, warehousing and shipping facilities.
 Our Town America currently employs 60 people at its Clearwater, FL corporate headquarters, and has over
75 regional sales offices across the country
.
 New movers in thousands of zip codes across the country receive customized Our Town America Welcome Packages and Gift Certificates.
 Our Town America generates over $6 million in annual revenues. This number is expected to increase significantly as the company expands its franchise operations.
 Each month, Our Town America prints over 1 million personalized Gift Certificates and welcomes over half a million new movers across the country to their new communities and introduces them to local businesses.
 Our Town America is proud to be featured by
USA Today
,
The Wall Street Journal
,
Fox & Friends
,
Inc. Magazine
,
Entrepreneur
, & more!
A Quick Glimpse of Our Process...
How We Acquire New Mover Names
We are provided with millions of new mover names every month.  We then run them through exhaustive confirmations using our proprietary software. This system eliminates duplication and other names that may have slipped into the list by error. We don't use our list until we feel absolutely confident that we have the best new mover list possible.
Producing Your Gift Certificates
Our 40,000 square foot state-of-the-art-facility allows us to handle every aspect of producing your certificates. From designing the graphics, to getting them into the hands of the highest potential audience available.
Distributing to Your Neighbors
Our genuine Welcome Package is delivered to each new mover by the United States Postal Service.  This approach allows us to reach more new families on a timely and consistent basis without repeated attempts.  Our Welcome Package is far from a bother, as each enclosed gift certificate is a proven offer — not a coupon.
Serving Our Local Business Sponsors
Our proprietary software allows us to provide feedback from the people who have visited your business. This lets us know how the new movers feel about the quality of our Local Business Sponsors and to learn what else they may need. It also provides our Local Business Sponsors with valuable information from the customer about what they are doing right AND wrong.

Our Town America Throughout the Years
We have been helping movers adjust to their new communities and assisting local businesses in gaining loyal customers since 1972. Today, we are one of the largest independent New Mover Marketing companies in the country and a recognized industry leader. Our proprietary, state-of-the-art technology give us unparalleled direct mailing accuracy, customized distribution, personalized Welcome Packages and Gift Certificates with targeted tracking for direct-response customer feedback. We are headquartered in Clearwater, Florida.
<! ========= Cool Timeline Free 1.3.2 =========>
1978
Our Town America begins using the United States Postal Service as its method of distribution, leading the industry into a more efficient means of welcoming families.
1972
Our Town America begins welcoming new movers in Newton, Iowa delivering community packages using in-home presentations by hostesses.